In this part ANTHANASSA's friends can read about the office for gardening advices and landscaping tips regarding garden construction and garden maintenance with brand new garden ideas.
The fact is that the unexpectedly impressive traffic to the entire ANTHANASSA's website has created the real desire to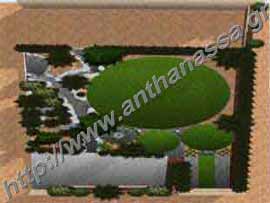 many people to have a more personal contact with the head of our individual business. This is the result of their efforts in order to get useful gardening advices or to learn landscaping tips or to have some acquaintance with the unique garden ideas of ANTHANASSA. All these of our friends have the belief that such a kind of communication would help them more either to solve a problem that affects the life of their gardens, or to cooperate with us for completing successfully a garden construction or garden maintenance. It is true that ANTHANASSA's friends exist in all regions of Greece, not only in Athens or Attica region. Also, many people communicate with us from foreign countries.
Unfortunately, our professional obligations and other reasons preclude the satisfaction of all people who trust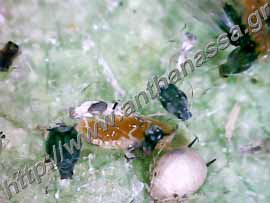 ANTHANASSA. Therefore, we decided to innovate once again by launching gradually a series of innovative new services. The first step is made by forming a special area in our headquarter that is exclusively dedicated to the visits of all those people who seek eagerly traditional face-to-face quality communication with a professional constructor and not just to squeeze some sporadic minor information, since our free time is very limited. This place works in a way like the extension of our website and is a small office for customers services where confidential selected meetings can be set with people who primarily respect our efforts, not appropriate information from us to publish or distribute without authorization to a forum or elsewhere, and at the same time are motivated by unfeigned feelings in order to maintain or improve their natural environment.
The tiny new customers office of consulting servises for public is housed in the same address where ANTHANASSA's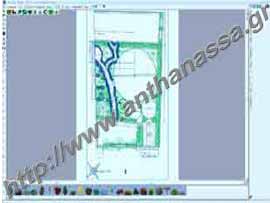 general office and storeroom are. It is artificially isolated to avoid disturbance of the various activities carried out in the rest of the building such as our different landscaping services. In this rather small, but important office, effort will be made to offer a personal advice or our views on issues related to the private gardens and will discuss with our customers when their presence is necessary in our place. Our new service is strictly addressed to all those people who are not employed in the vast field of garden construction, garden maintenance or professional landscaping, but are lucky owners of private residential or business gardens who have access to the website of ANTHANASSA. Furthermore, as clearly stated in the terms of use of the website, for any reason our opinions do not substitute or replace other professional advice, while the presence during meetings of any person automatically means that he/she has previously accepted these terms on the Internet.
In order to make a visit possible, it must be necessarily preceded by a telephone call to determine the time for setting the selected meeting. It is recommended to dial only the number of the cell phone that is specified in the relative contact area of our website.
Reaching our address just ring the bell marked "ΥΠΗΡΕΣΙΕΣ ΠΕΛΑΤΩΝ - CUSTOMERS SERVICES" and wait for safety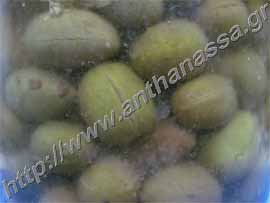 reasons for someone from us to welcome and guide you. We stress that the arrival of visitors should be made with absolute punctuality, because after a thirty-minute delay the meeting is assessed as invalid and not performed. On the other hand, we would appreciate the visit to be made necessarily by one person at a time. In addition, the garden of the building is an experimental ground and agricultural data is recorded for obtaining information on the development of ornamental plants in urban environment and should not be taken as a construction model. Please keep in mind that any person who is not working for ANTHANASSA should not walk in the building or around the garden without our escort because there are deployed safety instruments and surveillance mechanisms. For the same reason please avoid injuring plants or interfering with sensitive electronic instruments.